It's very simple to pay your electricity bill each month!
Electricity is valuable so use in case of necessity


Ask your landlord the EVN consumer number (PE00000000000) if you agree to pay yourself in the rent contract.
EVN staff will deliver the consumed bill each month to your apartment.
You will see 2 dates on the beginning and end of the bill. First one is the delivery date and latter is your starting date to pay the bill, normally after 2 days from the delivery date.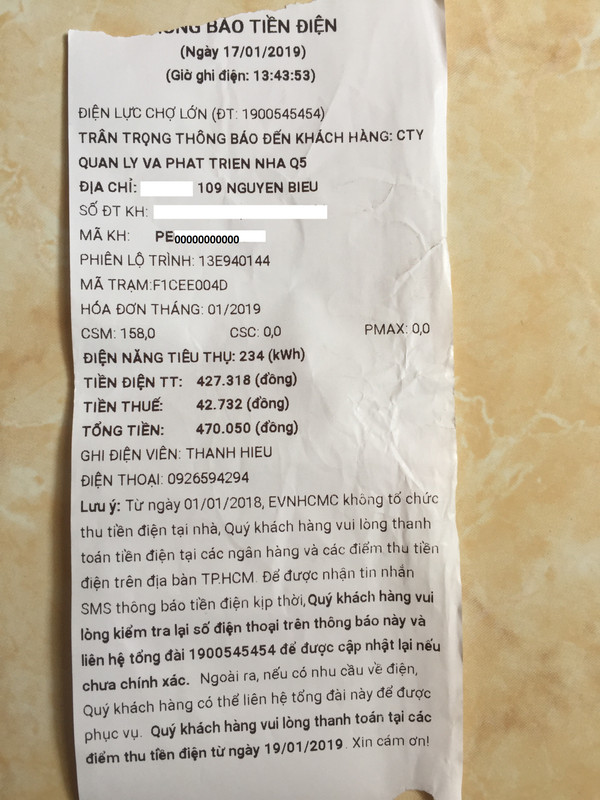 You can see more details in bill like how many kwh you ate in that month, amount, tax, total amount...


You have many payment options:

1. Pay by hand directly to the EVN staff who delivered the bill.

2. Go to EVN website: EVN HCMC

a. Select language from right side top - English / Vietnamese
b. Hover the mouse to "Online Trading" (GIAO DỊCH TRỰC TUYẾN) and click on "Thanh toán dịch vụ điện"
c. Enter the consumer number (PE00000000000) starting from PE and click on "Continue".
d. You can see the "List of services to be paid" with the consumer number and amount. If you cannot see anything, wait for 1 or 2 days. EVN need to update in the website.
e. Select the bill by checking the box on the left and click on "Thanh toán dịch vụ điện".
f. Agree with the VN PAY payment agreement by check box and click on "Thanh Toan".
g. Choose the payment method to pay.You will see so many acceptable bank logo in "ATM card and bank account" (Thẻ ATM và tài khoản ngân hàng).
h. Choose your bank and pay.

3. Go to your online banking/mobile banking (many banks has utility bill payment service online) and pay from there by 'choosing the area (EVN HCMC, EVN HA NOI...) then enter the consumer number.

4. Go to the EVN office (address will be in your bill - line 7) and pay directly. Of course some staff will help you because they like money


Hope this will help you to pay your electricity bill without any help!